Waka hourua arrives in NP
By RYAN EVANS ryan.evans@tnl.co.nz - Taranaki Daily News | Thursday, 04 December 2008 |
Photo MARK DWYER
Hector Busby sails the traditional way.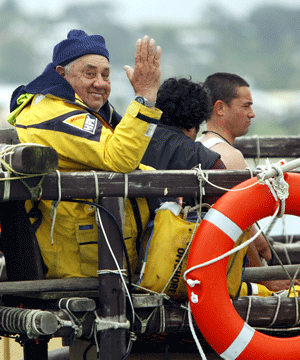 The 76-year-old sailor built his waka hourua (double-hulled voyaging canoe) Te Aurere himself, digging out two kauri trees, and he navigates using stars, the moon, sun, wind, wave patterns and birds.
Yesterday, Mr Busby and an eight-member crew reached Taranaki's shores, touching in at New Plymouth as part of a voyage circumnavigating the North Island, teaching a new generation of sailors the traditional ways.
"Our aim is to make it to Waitangi by Waitangi Day," Mr Busby said.
Mr Busby built Te Aurere in 1991, inspired by the 1985 visit to New Zealand of the waka hourua Hokule'a as part of its "Voyage of Rediscovery", promoting traditional Polynesian sailing methods, and the visit of Tahitian waka hourua, Hawaikinui.
"They said they hoped one day we would come back in our own canoe, so I took the challenge up," he said.
Te Aurere made its maiden voyage to Rarotonga in 1992.
"She's done a few miles now, Tahiti, Hawaii, Rarotonga," Mr Busby said.
"She's a good vessel, I'd sooner go on her any day than a yacht."
This year is the first time Mr Busby has sailed Te Aurere since 2000 when he went to New Caledonia, he said.
The boat has a top-speed of about 12 knots and a maximum crew capacity of 12 and Mr Busby said he often just picks them up along the way.
"We've got crew all along the island and the ones that are available put their names down," he said.
Last time Te Aurere passed through New Plymouth, Mr Busby picked up three crew members but he's not yet sure if any will come from Taranaki this time for the next leg of the voyage to Wanganui.
But he has noticed the younger crew members get very involved in the traditional methods.
"Young fullas get very attached to the waka," he said.
"Some of the young ones who have gone a bit off track seem to come right when they got knocked about out at sea."
Te Aurere may be built from dug out kauri logs and lashed together using traditional Polynesian techniques but safety demands mean there are a couple of modern features, including modern safety equipment, an outboard motor and a GPS system.